What to Expect
At LoHi Chiropractic, we understand the anxiety you may have about starting something new and unfamiliar. We will put you at ease, answer your questions, evaluate your health issues and move with you through the solutions.
The First Visit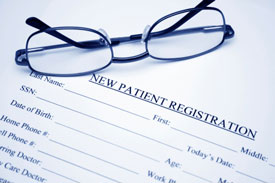 At this visit, you will complete new patient paperwork, go on a brief guided tour of our office and have a one-on-one consultation with our New Patient Intake Specialist to discuss your health concerns and goals. This is the time for listening to you and for answering your questions.
We also offer our paperwork online so you can complete it in advance, in the convenience of your own home.
After your comprehensive consultation, we will perform a thorough orthopedic exam which may include Digital X-rays, Spine and Nerve Scans, Muscle Surface EMG, Stress Tests, Postural Analysis and other assessments. If the Doctor determines that you are a candidate for Chiropractic Care, we will let you know immediately, and schedule a follow up visit to go over your Report of Findings and provide care at that time. If we determine that your health concern is not a chiropractic case, we will refer you to someone who can help you.
*Dependent upon the acute nature or severity of your condition, we may elect to provide some form of treatment on the first visit*
The Second Visit
At this visit, we will perform a detailed review of your diagnostic findings. We will answer all your questions about the causes of your symptoms, prognosis, treatment strategies and our plan of action for you as well as any costs. This visit takes approximately 45 minutes.
Regular Visits
Most of your regular visits will range between 10 to 20 minutes depending on the type of treatments rendered on that particular day. We routinely prescribe new stretches and therapeutic exercises and also perform a variety of physio-therapies to compliment your Chiropractic care. Bodies of all types are constantly changing because we have varying stressors and activities that affect our well-being!
So whether you'd like to schedule your first visit or sign up for a Healthy Happy Hour session, give us a call today at (720) 644-9144 . You'll be glad you took that first step toward better health!