CLA Neuromusculoskeletal & Stress Tests

Look Deeper into the Nervous System
Linked together through CLA's powerful myINSiGHT software, the INSiGHT Technologies detect and report the impact of lifestyle stress combined with real-time reactions occurring within the spinal nerves. Subluxation patterns can be analyzed instantly and communicated effortlessly using the world-renowned CORESCORE.
---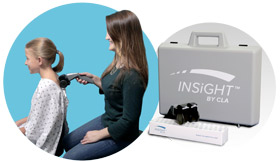 neuroTHERMAL (Thermography)
Scanning the spine using infrared technology creates a thermographic image, which identifies areas of poor autonomic nerve regulation. Engineered for use with infants, adults or seniors, this exceptional rolling thermal device and its reports educate patients on the deepening effects of subluxations and stress.
---
neuroCORE (sEMG)
The neuroCORE surface muscle EMG accurately measures the tone of the muscles along the spine is the centerpiece of most chiropractic evaluations. This quick analysis of the neuromuscular activity along the spine produces invaluable information for a chiropractor to manage the effects of the vertebral subluxation.
---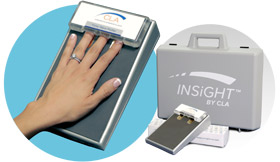 neuro PULSE(HRV)
Heart Rate Variability (HRV) testing is today's gold standard to analyze the overall effects of stress and anxiety in patients of any age. Move your message from the spine to overall health, wellness and performance using the wireless, precision neuroPULSE scanning technology.
---
Contact us today to find out how this advanced technology can help you be the best version of yourself!